By Bartlo Siebrits
Fellow Waverider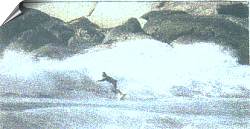 Nestled on the western side of St Helena Bay lies a small, almost forgotten town that is largely ignored by the bigger tourism companies. The potential of this little town as a stop-over or base from where to explore the vast open spaces of the West Coast has up until now been untapped. Only ninety minutes from Cape Town, it is ideally suited for the day visitor but also offers quiet little venues from where you can explore and drink in the natural beauty of this desolate but very accessible part of our beautiful country.
The coastline north of Cape Town is known throughout the surfing community as one of extremes. Water temperatures range from fifteen degrees to as low as eleven degrees. Huge winter storms in the southern Atlantic sends swells for thousands of kilometres to explode on our coastline. This ensures clean, powerful groundswell through most of the winter months.
Summertime can be a little inconsistent but with a little local knowledge you will still be able to find good surf. The geographical make up of the coast is so diverse that you can expect anything from long, perfect point breaks, to short and powerful beach breaks - catering for everybody from the beginner to the seasoned waverider.
A full wetsuit is very important and though the water temperature rises slightly in winter, the wind chill factor can still be quite high. The negatives still do not overshadow the positives... The area around St Helena has many good quality breaks, some well-known throughout the surfing community, others not so well known and ones only the locals whisper about when nobody is listening.
If adventure is up your sleeve, the rugged and relatively unexplored coastline has a lot of surprises shrouded with its own kind of mystique.
Happy Wave Hunting!
Top
Home
Terms of Service
About Us
Privacy Statement


GuriQua cc ® © ABrand sawestcoast.com