another good reason to visit the West Coast
Five Million years ago...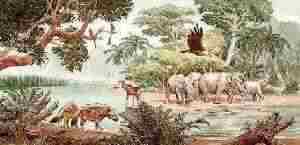 A riverside scene at Langebaanweg 5 million years ago.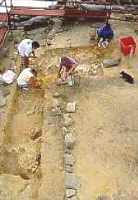 The West Coast Fossil Park, a component of Iziko: Museums of Cape Town, offers students, school children and the general public an opportunity to have an on-site fossil experience. People can learn about ancient environments; the animal life and the climatic changes that occurred in this region 5 million years ago. You can even become a volunteer guide/fossil preparator/assistant curator or clerical assistant.
The many thousands of fossil bones have attracted world-wide interest and a fascinating range of extinct animals are displayed.
There are tours once a day during the week, starting at 11:30. The coffee shop is open from 10AM to 4PM during the week.
Location: The Fossil Park is located 110kms north of Cape Town, only one and a half hour's drive along the R27. Turn off on the R45 towards Hopefield.
Start your West Coast adventure with a visit to the Fossil Park.
Contact details: West Coast Fossil Park:
Tel: +27 (022) 766 1606/Fax: +27 (022) 766 1765
Project Co-ordinator:
Pippa Haarhoff -pippah@iafrica.com
Iziko: Museums of Cape Town:
Tel: +27 (021) 424 3330/Fax: +27 (021) 424 6716
Website: www.museums.org.za/iziko
Public Relations Officer:
Medee Rall - mrall@samuseum.ac.za
Top
A Walk With Eve
Langebaan Past Life
Cape Odyssey


Riverside and gomphothere Illustrations by Cedric Hunter © South African Museum
Photographs ©, South African Museum
© Avril Brand, South Africa West Coast