Come forth into the light of things,
Let Nature be your Teacher
WilliamWordsworth (1770-1850)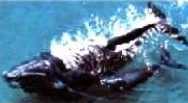 The Southern Right Whale (Eubalaena australis) is a regular visitor to the West Coast. It migrates annually from the Antartic Ocean to Cape inshore waters in June and returns in December. Calves are born around August and what a magnificent sight when these glorious creatures roll, splash and breach so close to the shore. St Helena Bay's calm waters are a haven for whales and dolphins. Stompneus Bay and Britannia Bay are popular whale watching areas.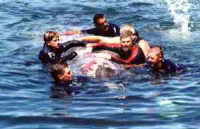 Whales that strand on the St Helena Bay shore are often saved from a horrible death by the locals. Three whale calves stranded in St Helena Bay in January 2000.
Left: Gavin Fagrew and many other St Heleners went all out to save the babies from certain death. After many hours, they successfully 'steered' the babies into deeper water to where the anxious whale mothers waited...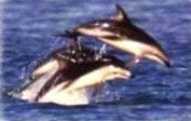 Heaviside's Dolphin (Cephalorihnchus heavisidii), are endemic to this part of the world as are Dusky Dolphins (Lagenorhynchus obscurus).
And if one is lucky, scores of common dolphins (Delphinus delphis) can be seen leaping and slapping the water to herd in shoals of fish.